What is Cinavia?
Cinavia is a protection for movies in theaters and on DVD & Blu-ray discs. It consists of a multi-level watermark that is embedded in the audio track and, while being theoretically transparent (not-audible) for the listener, it is supposed to resist various transformations of the audio stream like re-compression, analog playback & record, re-sampling, limited pitch shift, etc.
DVDFab Cinavia Removal Solution
DVDFab CinaviaRemoval HD is the world first high quality solution for removing the Cinavia watermark from audio tracks of a disc, thus removing the protection altogether. It works by repairing the audio track, taking it back to original Master in terms of sound quality.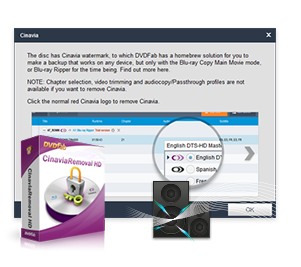 However, anyone know the tutorial and details on CinaviaRemoval HD Solution?